An overview of the upcoming digital workplace trends that will change how we approach cybersecurity in 2022.
Download Sealit's infographic below or click HERE for PDF.
Encryption
Encryption continues to be a key cybersecurity trend for 2022, as a way for companies can secure and protect their data, especially in the wake of the massive increase in ransomware attacks. 
Entrust reports that, though 50% of companies are now using encryption consistently, only 42% of businesses are using encryption to protect their customers' data.
With the total global average of data breaches costing $4.24 million (the highest annual figure recorded in this report) cracking down on encryption to prevent cybercriminals from accessing data is essential in 2022.
Encryption usage among small businesses for 2022 and beyond
A survey made by Entrust for encryption strategy in 2020:

50% of respondents say their organizations have an overall encryption plan that is applied consistently across the entire enterprise.

37% a limited encryption plan or strategy that is applied to certain applications and data types.

13% no encryption plan or strategy.
Cost growth for data breaches:
Data breach costs rose from USD 3.86 million to USD 4.24 million, the highest average total cost in the 17-year history of this report. Source: IBM

The average cost of data breaches per year:

$3.92 million 2019.

$3.86 million 2020.

$4.24 million 2021. Source: IBM

---
READ MORE: Seven Tips For SMBs Adopting Encryption
---
Remote Working
With the pandemic pushing companies to enforce regular working from home, it is no surprise that some businesses are continuing to pursue this new remote working world, with either fully remote teams, or a hybrid combination of remote and onsite working.
From sharing files to using external networks, this trend towards remote working will have a major knock-on effect on how businesses tackle cybersecurity and provide secure remote access to employees and their devices.
Timeline for growth in remote working:
Remote workers represented 17% of employees in 2019.
Remote workers represent 32% of all employees worldwide in 2021.

In 2022, 51% of all workers worldwide will be remote (a mix of hybrid and fully remote).


Source: Gartner
Remote workers per country in 2022:
U.K. remote workers will represent 52% of its workforce in 2022.
Remote workers in Germany and France will account for 37% and 33%, respectively.

India and China will produce some of the largest numbers of remote workers, but their overall penetration rates will remain relatively low with 30% of workers in India being remote and 28% of workers in China working remote.


Source: Gartner
Remote team tech swaps (video vs. in-person):
In 2020, people are using video meetings 50% more than pre-COVID-19.

79% think video conferencing is at the same level or more productive than in-person meetings.


Source: Owl Labs


---
READ MORE: How To Secure Your Data From Hackers When Working Remotely
---
Cloud Services
Alongside the trend for remote working, cloud services for data and file storage increased in 2020.
Shift to cloud services continuing to see increases, 2018 - 2022 predictions:
28% of Spending in Key IT Segments Will Shift to the Cloud by 2022.


Source:

Gartner
Concerns for cybersecurity in the cloud:
Concern for cloud cybersecurity is divided into:
Misconfiguration of the cloud platform (68%)

unauthorized access (58%),

insecure interfaces (52%),

hijacking of accounts (50%).


Source:

Cybersecurity Insiders
Smarter Phishing Attacks & Ransomware
Security solutions are forced to adapt this year, with smarter phishing and ransomware attacks threatening businesses.
Increase in cybercrime:
Cybercrime, in general, was up 600% this year due to the pandemic.
Cybercrime costs to businesses:
The World Economic Forum estimates the economic cost of cybercrime to be $3 trillion worldwide. ( Reported January 2016 by

Microsoft

)
Damage related to cybercrime is projected to hit $6 trillion annually by 2021. Source:

Purplesec

Global cybercrime costs are expected to grow by 15% per year over the next five years, reaching $10.5 trillion USD annually by 2025.

Source:

Cybersecurity Ventures




---
READ MORE: How Cybersecurity Grows Your Startup: 5 Things To Know
---
Phishing sites increase from 2020 - 2021:
Google has registered over 2 million phishing sites as of January 2021 – this is up from 1.7 million in January 2020, which equates to a 27% increase in 12 months.


Source: Retarus
Click HERE to download Sealit's infographic about the most important Cybersecurity Trends for 2022.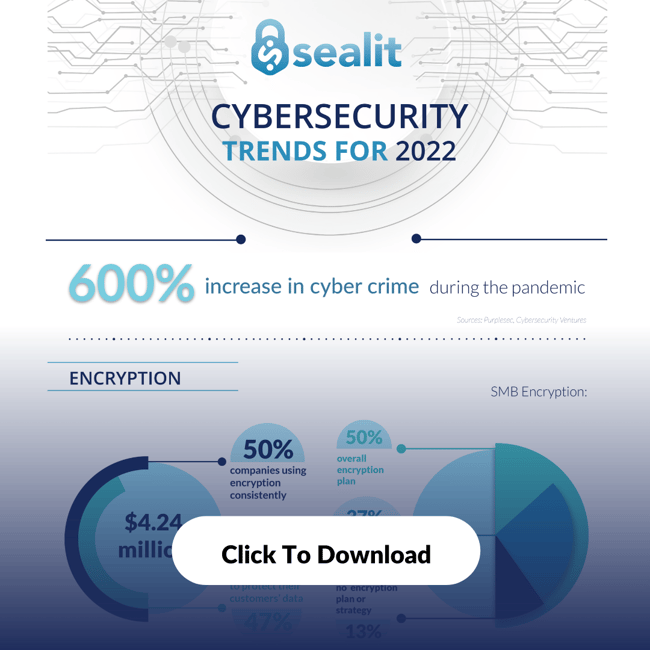 Sign up with

Sealit

to implement data protection and encryption for your business today.